Editor's take | REX Homes vs. top competitors | Is REX right for me? | Find REX Real Estate reviews from real customers | Locations
❗ Important Notice
REX Real Estate Has Reportedly Closed
Multiple
sources
have indicated that REX Real Estate ceased operations Tuesday, May 10, 2022.
To find an alternate to REX that's available near you, see our list of the
best low commission real estate brokers
.
REX Homes is a discount real estate brokerage that offers reduced realtor commission rates for home sellers. REX claims it can sell your house for a 2.5% commission fee, compared with the 5-6% rate that real estate agents typically charge.
REX's unconventional marketing approach aims to reduce or completely eliminate buyer's agent commissions. In theory, this reduces your total commission to around a 2.5% listing fee. But does it work?
Our Research Team has spent hundreds of collective hours researching REX, along with more than a dozen other low commission brands, to see how it stacks up against the competition. Here's what we found.
Bottom line: Should you use REX Real Estate?
Most home sellers have better options than REX. While REX claims to offer low commission rates, its advertising hides the significant risks of its pricing model and marketing approach. Industry experts also warn that REX's promise of huge savings is "misleading" — many sellers end up paying REX as much (or more) as a traditional realtor.
Overall, REX's top competitors offer much better dollar-for-dollar value. Discount brands like Clever and Redfin charge lower rates, provide better customer service, and don't create savings in risky ways that could make your house harder to sell.
» SAVE: Learn how Clever saves you 50% on commission fees
Full breakdown: REX Real Estate vs. top competitors
| Company | Listing fee | Avg savings | Locations |
| --- | --- | --- | --- |
| REX | 2.5% ($9,000 min. fee) | -$325 | AZ, CA, CO, FL, GA, MD, NV, NJ, OR, PA, TX, WA, DC |
| | 1% or $3,000 | $7,375 | Nationwide |
| | 1.5% (min. fees vary) | $5,550 | Nationwide (select markets) |
| | 2% or $3,000 | $3,750 | Nationwide |
| | 1% (min. fees vary) | $8,000 | FL, GA, LA, MS, NC, RI, SC, TN |
| | 1% (min. fees vary) | $7,125 | FL, GA, TX |
| | $5,000 | $7,000 | FL, MD, NJ, PA, VA, DC |
| | $3,500 | $8,500 | AZ, CO, ID, NV, UT |
| | $2,950-7,950 | $6,550 | AL, AZ, CA, CO, FL, HI, ID, MI, MN, MO, NV, NC, OK, OR, PA, TX, UT, VA, WA |
| | 1% (min. $3,000) | $7,375 | AZ, CA, CO, GA, MO, NC, SC, WA |
| | $3,500 or 1% ($500 due up front) | $8,500 | CO, FL, GA, IL, NC, SC, TN, TX, VA |
REX isn't a great option for most home sellers, especially when stacked up against other discount brokerages. Most of REX's competitors offer bigger savings, better service, and more dollar-for-dollar value.
REX advertises a total commission of 2.5%, which is a lot more expensive than its top competitors — and it's actually not that much cheaper than selling with a traditional realtor.
And, although REX claims its 2.5% fee is the only realtor commission you'll pay, that's only the case if you find a buyer who's not using a real estate agent. In reality, this doesn't happen too often. About 90% of buyers work with an agent, so you'll probably end up paying 5% or more after factoring in the buyer's agent commission.
Clever's 1% listing fee offers MUCH better value than REX
💲 Listing Fee
$3,000 or 1%
💰 Buyer Savings
Up to 0.5% cash back
⭐ Avg. Customer Rating
4.9/5 (1,810 reviews)
✍️ Editor's Take
Pros
Cons
Reviews
Locations
Clever is a quick, easy, and free way to find a top-rated local agent. And, unlike many similar companies, Clever pre-negotiates big discounts on your behalf, so you can save thousands without sacrificing on service.
Free, nationwide agent-matching service that partners with full-service local agents from conventional brokerages like Keller Williams, Century 21, and RE/MAX
Provides multiple agent matches so you can interview, compare marketing plans, and choose the best fit
Pre-negotiates low rates on your behalf — you get full service for a flat $3,000 listing fee, or just 1% if the home sells for more than $350,000
If you buy with Clever, you could get a check worth up to 0.5% of the home price
You may not get matched with an agent from your preferred real estate brokerage.
Agents may not provide premium services like drone photography and professional home staging.
As of 44,790, Clever has a 4.9 out of 5 rating on Trustpilot, based on 1,710 reviews.
Clever has pre-negotiated low commission rates with top agents in all 50 states and Washington, DC.
Clever Real Estate is the best alternative to REX because it provides best-in-class service at much lower rates — without any of the risks.
Clever's free nationwide service connects you with local agents from major brands like Keller Williams and RE/MAX — and negotiates discounted rates on your behalf. Sellers who list with Clever pay just a 1% listing fee (or $3,000 for homes under $350,000), less than half of what REX charges.
You can try Clever for free without any obligation. Interview multiple agents until you find the best fit for you, or walk away at any time.
REX's service model is more risky than competitors like Redfin
💲 Listing Fee
1.5% (min. fees vary)
⭐ Avg. Customer Rating
3.8/5 (425 reviews)
✍️ Editor's Take
Pros
Cons
Reviews
Locations
Redfin offers real savings and a proven brand. But sellers could compromise on service — especially agent experience and availability.
If you buy and sell with Redfin, you'll get a 0.5% listing fee discount
Redfin gives its listings premium placement in its popular home search app
If finding the right agent is a top priority, you'll have limited options

—

Redfin only has a few agents in each of its markets
Redfin agents handle more customers at once than the average realtor, so they may not be able to provide as much personalized service
Redfin has a 3.8 out of 5 rating (425 reviews) across popular review sites like Google and Yelp.
Most discount brokerages, such as Redfin, create savings by charging their clients a reduced listing fee, then making up for those costs by reducing overhead and operating more efficiently. REX takes a different approach. It charges a 2.5% listing fee — about the same rate traditional realtors charge — then tries to create savings by taking that money from the buyer's agent.
But REX's approach comes with numerous risks to the seller. Cutting out buyer's agent commission gives agents little incentive (or sometimes none at all) to show REX's listings to their buyers. Sellers who offer reduced commissions could have fewer eyes on their listings, fewer offers from buyers, and a much harder time selling their home for top dollar.
Competitors like Redfin, Clever, and Ideal Agent offer a time-tested approach to savings. By offering discounted listing fees, sellers can save money while still offering a competitive fee to the buyer's agent, ensuring their homes get as much visibility as possible.
Find more REX competitors near you
Clever, Redfin, and Ideal Agent are the best nationwide alternatives to REX, because they all offer bigger savings and better service without any of the risks. But depending on where you're located, there may be regional companies that are worth considering too. Check out the other discount real estate services available in your area to find the best real estate agent for your needs and budget.
---
---
REX Real Estate reviews



Rating


# of reviews


Weighted average


4.7


1,021


4.9


798


4.4


96


4


113


2.71


14


Note: Review information is up-to-date as of 8/17/2022. We will update this section as new information becomes available.

Overall, REX Real Estate reviews online are solid, with an average customer rating of 4.7 across 1,021 total reviews. But we don't think this high customer rating accurately reflects the value that REX offers, especially in comparison to the other options on the market.
REX has:
Worse rates and service than its competitors
Limited savings
Big risks when it comes to cutting out the buyer's agent
REX's competitors also have stellar customer reviews, and we think they offer a lot more dollar-for-dollar value.
It's also worth noting that most reviewers call out experiences with specific agents and team members. REX agents typically only need two years of experience, and associate agents — who often handle much of the day-to-day and in-person work — may only need an active real estate license with no prior experience required.
As with most discount brokers, your experience and outcome will depend on the agents you're paired with. Remember, you're hiring the agent, not the brand. Even if an agent comes with a personal recommendation, it's a good idea to interview at least 2–3 agents from different brokerages to make sure you've found the best combination of service and overall value.
---
---
What customers like about REX Real Estate
The most common themes among positive REX Real Estate reviews are:
Painless and easy home selling process
Team was helpful and professional
Certain sellers were happy with the value they received
REX is a 'great value'
Though this NY-state seller was ultimately unsuccessful, they still had positive things to say about REX's service, advice, and the quality of buyers brought by their REX agent:
My REX agent 'exceeded my expectations'
This first-time seller sold their home with REX in Denver, CO and appreciated how the REX Team's expertise, responsiveness, and kindness made the process less stressful:
I 'faced some hiccups' but then things went smoothly
This buyer worked with REX Homes in Los Angeles, and he was frustrated at first with some difficulties while making an offer and figuring out whether it was accepted.
But after switching agents, he had a much better experience with REX.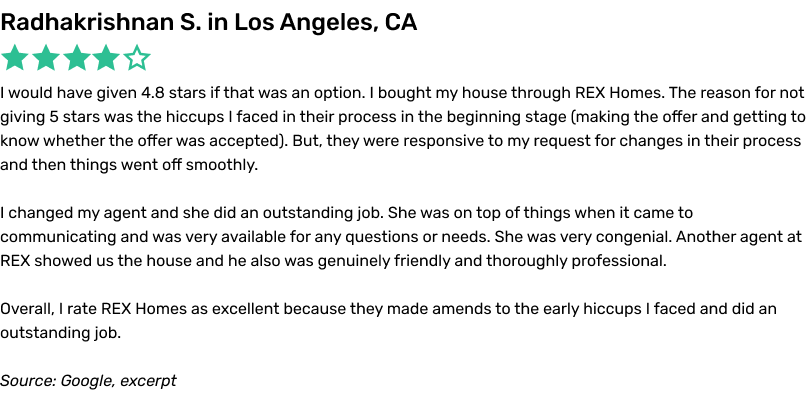 What customers DON'T like about REX Real Estate
The most common themes among negative REX Real Estate reviews are:
Inexperienced agents
Poor communication and customer support
Costly pricing mistakes
REX's salaried agents showed 'no urgency' to sell our house
Lisa G. of Phoenix, AZ was a frustrated seller whose home never sold through REX. She specifically calls out REX's risky marketing approach, which failed to attract a single buyer to either of her open houses.
Lisa also warns about REX's disorganized customer service. She felt like the company's agents didn't have enough motivation to get her house sold.
My REX listing was 'not attracting potential buyers'
Mary S. tried listing her home with REX in Los Angeles, but she said that her home did not have any interest because it wasn't on the MLS. She also points out the difficulty she had communicating with REX and holding open houses.
Mary eventually switched to a traditional real estate brokerage and negotiated a lower commission rate with her agent. She said her home sold in a reasonable amount of time.

Homes consistently sell for '10% under market value'
This REX Real Estate review comes from a traditional realtor who tried to get his clients in to view REX homes. He says that the REX agents were unwilling to schedule any showings, and so the seller missed out on his clients' offers.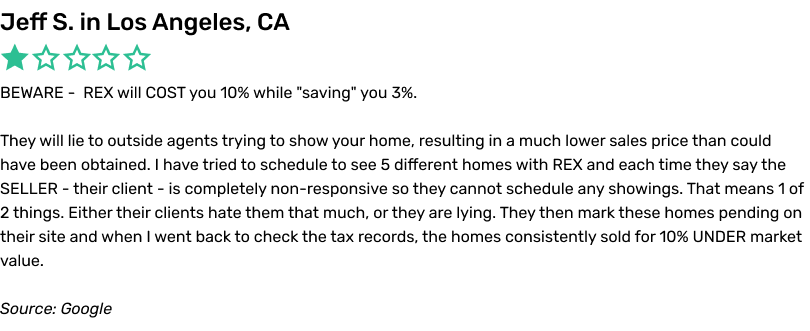 This review highlights one of the biggest risks of selling with REX. Since the company's savings model relies on finding buyers who aren't using a real estate agent, it makes sense that REX agents wouldn't be thrilled about working with traditional realtors. But it goes to show how REX sellers can potentially miss out on buyers who are willing to pay market value (or higher).
If you want to save money on the sale of your home, consider going with a free nationwide service like Clever Real Estate. Clever pre-negotiates reduced listing fees with traditional agents in your area, providing guaranteed savings without the risks.
Who should use REX Homes?
💲 Listing Fee
2.5% ($9,000 min.)
⭐ Avg. Customer Rating
4.7/5 (1,021 reviews)
✍️ Editor's Take
Pros
Cons
Reviews
Locations
REX's promise of huge savings is misleading. Its advertising misrepresents the significant risks of its pricing model and marketing approach. And its high minimum fees mean that many sellers won't save anything.
REX's approach is incredibly risky — but if the gamble pays off, you could save about 50% on realtor fees
Like other full-service brokerages, REX agents provide in-person services and support
REX's 2.5% listing fee doesn't save you much — many full-price agents charge similar rates
REX doesn't list your home on the MLS, so up to 90% of buyers may not even know it's for sale
This risky marketing strategy seems likely to fail, so you may not save anything on commission
REX has a 4.7 out of 5 rating (1,021 reviews) across popular review sites like Google and Zillow.
REX is available in the following areas: AZ, CA, CO, FL, GA, MD, NV, NJ, OR, PA, TX, WA, DC.
As the REX Real Estate reviews above show, most home sellers will find that REX isn't the best choice in their area. Because of its high rates, risky service model, and lackluster customer service, REX doesn't offer any intrinsic value over other discount brokers or even traditional realtors.
If you want to save money on the sale of your home, we recommend going with one of REX's competitors. There are numerous options that offer better savings, service, and overall value compared with REX.
If you're buying a home, REX's home buyer rebate program may be worth considering. But given the customer service concerns we have about REX, we'd still recommend seeing if there are better options available in your area. Other brokerages offer comparable savings for buyers along with better agents and more hands-on customer service.
» MORE: What are the best low commission real estate brokers near me?
What is REX Real Estate and how does it work?
REX Homes, at a glance

2.5% ($9,000 min. fee)


4.7 (1,021 reviews)


AZ, CA, CO, FL, GA, MD, NV, NJ, OR, PA, TX, WA, DC


*Compared with a 3% listing fee at four different price points: $100,000, $250,000, $500,000, and $750,000.

REX Real Estate is a low-fee broker with licensed agents who can help you sell or buy a home in select markets across 12 U.S. states and Washington, D.C.
Unlike most other discount brokers, REX doesn't create savings by offering reduced listing fees. Instead, the brokerage tries to reduce the 2.5–3% buyer's agent commission.
REX sellers can choose to either list their home on the MLS and offer a very low commission to the buyer's agent, or try to avoid it completely by not listing to the MLS and marketing their listing on Zillow and Facebook instead.
REX Real Estate fees and savings
For most sellers, REX Real Estate will cost roughly the same as selling with a traditional realtor — and it's much more expensive than most other low commission brokerages.
REX charges sellers 2.5% of the final sale price of a home, subject to a minimum fee of $9,000. The majority of sellers who want to list on the MLS will also be responsible for the buyer's agent fee — typically an additional 2.5-3% of the home price — which adds up to a total commission rate of 5-5.5%.
Selling with REX Real Estate
When you sell with REX, you'll get many of the services you'd expect from a traditional realtor, such as pricing recommendations, professional photos, marketing, help with offers, negotiations, paperwork, and more. But there are a few big differences that will likely affect your selling experience.
REX creates savings in risky ways
Typically, REX has encouraged sellers to bypass the MLS so they can avoid paying a commission to the buyer's agent, making REX's 2.5% listing fee the only fee they have to pay.
But the reality is that most sellers won't be able to find a buyer without the MLS — something REX itself has admitted — so you'll likely have to pay buyer's agent commission anyway.
Recently, REX began giving sellers the option to list on the MLS. But you won't save any money this way unless you offer a low buyer's agent commission. The problem is that advertising a non-competitive fee reduces the incentive buyer's agents have to show your property — after all, they won't make as much money on the sale! In short, your home could sit on the market longer and ultimately sell for less than it's really worth.
Why it's risky to offer a reduced buyer's agent commission
We asked 10 licensed real estate agents whether they would ever advise their clients to offer a lower buyer's agent commission, and all agreed that this approach is risky.
Offering a lower buyer's agent commission will likely result in fewer agents showing your home. Buyer's agents might be biased even as they're showing your home to prospective buyers because they know how much commission they're going to receive. This often results in fewer offers from buyers, and you may sell your home for less than market value.
📢 Even REX has admitted that the strategy of sidestepping commissions doesn't really work. "Sellers need to understand that if they offer commissions below the going rate, there's going to be steering away from the home as a result of NAR's mandatory commission rules," said
REX executive Michael Toth
in 2021.
REX's 2.5% listing fee may not save you anything
Unlike most discount brokerages, REX charges the same 2.5% listing fee as many traditional agents. The only way they create savings is by cutting out the buyer's agent commission — which anyone can do on their own.ⓘ
To receive the savings that REX advertises, you must either bypass the MLS or offer a reduced buyer's agent commission. Either way, this diminishes your home's visibility and will likely make it much harder to find a qualified buyer.
Offering a competitive 2.5–3% buyer's agent fee is the best way to gain visibility for your home and connect with potential buyers. But if you do this with REX, you'll pay a total commission of 5–5.5%, which is the same amount as traditional realtors charge. At that point, you're better off choosing a traditional realtor and receiving full service and support. And if you want to save money, a REX competitor will be a much better option.
🗞️ REX Real Estate Lawsuit: REX makes "misleading claims to deceive consumers":
In January 2022, the National Association of Realtors (NAR) filed a lawsuit against REX, stating that the brokerage is misleading consumers. By going with REX and not listing on the MLS, NAR says that "sellers lose exposure to the largest available pool of buyers, and buyers lose access to the largest available pool of properties for sale."
This illustrates one of the many reasons we don't recommend REX for sellers. Without the MLS, you'll struggle to find a buyer — but that's the only way to get the big savings that REX promises.
» MORE:
Find the best ways to save on realtor commission
Buying with REX Real Estate
The main incentive REX has for buyers is their home buyer rebate program, which offers a refund up to 1% of the home sale price toward your closing costs. While this rebate is sizable, it comes with a lot of strings attached.
🚨 If you buy one of REX's own listings, you will not qualify for a REX buyer rebate!
According to REX's terms and conditions, your purchase will qualify for a rebate only if all of the following are true:
The home is listed on the MLS
The purchase isn't a foreclosure or short sale
You get pre-approved for a mortgage through REX Home Loans, REX's in-house mortgage broker.
In addition to REX's eligibility criteria, commission rebates usually require approval from your mortgage lender. And there may be limitations on how you can receive or spend the rebate. For example, you may only be able to use the money to cover your closing costs. Some states don't allow rebates at all — in REX's case, buyers in Oregon will be ineligible.
If you're hoping to save money when you buy a house, it's worth comparing a few buyer rebate programs to see which company offers the best combination of savings and customer service at your target purchase price. Other discount brokerages offer similar incentives with less restrictions and fewer customer service concerns.
---
---
Other REX Homes services
One of the ways REX offset its discounted rates is by upselling existing customers on other REX services, such as home loans and insurance.
REX Home Loans offers mortgage loans to home buyers and current homeowners looking to refinance. The application process takes place online. You can submit your applications and documents using REX's website or mobile app.
While you're not required to use their service, the company requires buyers to get pre-qualified for a mortgage through REX Home Loans in order to receive their buyer rebate.
» LEARN: A step-by-step guide to the home loan process
REX Insurance provides quotes for a variety of insurance products, including homeowners, auto, umbrella, motorcycle, watercraft, motorhome, and RV policies. Like other insurance brokers, it partners with national brands like Allied Insurance and Travelers rather than underwriting policies directly.
✍️ Editor's note
Add-on products like home insurance, titles, and loans are becoming more popular among discount brokers. The services tend to be convenient, giving customers a kind of "one-stop-shop" for home services. But they may not always have the best rates and service quality.
For example, you might find that REX Loans has the best rates in your area — but you also might save a lot of money by going elsewhere. Compare rates from a few different companies before making your decision!
Next steps: Is REX a good option for you?
We don't recommend REX Real Estate for most home sellers. Its approach to the real estate process is inherently risky and doesn't provide enough of an incentive for agents to show REX listings to prospective buyers.
In addition, REX's promise of savings doesn't tell the full story. Most home sellers will end up paying the same amount as they would with a traditional real estate agent — which is far more than they should pay for REX's level of service and support.
Whether you're selling or buying a home, other discount real estate brands offer much more overall value, with guaranteed savings and hands-on service. As you're interviewing different real estate agents, remember that there's no obligation to move forward or commit to a particular service. You have nothing to lose and everything to gain by shopping around and comparing rates, experience, and personalities to find the perfect fit for you!
FAQs about REX Realty
REX Real Estate has generally positive customer reviews, but it's an incredibly risky option for most home sellers. The company's service model has no guaranteed savings and will likely make it harder to find a qualified buyer. If commission savings are your top priority, you'll likely find bigger average savings and better overall value with one of REX's competitors.
Yes, REX Real Estate is a legitimate company, and it's licensed as a real estate brokerage in every state where it operates. The brokerage has an average customer rating of 4.7 across 1,021 total Rex Real Estate reviews, and a Better Business Bureau rating of 2.71/5.0.
However, REX doesn't have a great reputation in the real estate industry as a whole. The company has been called out by the National Association of Realtors for using "false, misleading claims to deceive consumers" about the services and costs of using a realtor. And REX executives have even gone so far as to say their model of offering commissions below the going rate could result in fewer buyers for their clients.
In addition, the company is shrinking rapidly, despite raising about $135 million to date in private investor funding. In 2021, REX Homes closed their offices in Illinois, New York, Utah, and Virginia, and laid off 94 employees. This suggests REX isn't delivering real value to consumers. Most sellers will find that other discount brokerages offer lower prices and better overall value.
No, for most home sellers, REX is riskier (and more expensive!) than Redfin. That said, it's worth comparing your options. Other low commission real estate companies may offer lower fees, bigger savings, and more pound-for-pound value than either Redfin or REX. Check out our rankings of the best low commission companies.
REX Realty was founded in May 2015 by Jack Ryan, a former Goldman Sachs partner. The brokerage claims to use AI and big data to match home sellers and buyers, allowing sellers to cut out the buyer's agent fee and pay a 2.5% total commission instead of the traditional 5–6%. REX has real estate agents in the following states: AZ, CA, CO, FL, GA, MD, NV, NJ, OR, PA, TX, WA, DC. Learn more about how REX works and whether it's a good fit for you.
Related links
REX Real Estate locations and contact information
» MORE: Somewhere else? Find discount brokers near you
Corporate office contact information
| | |
| --- | --- |
| Business hours | Monday–Sunday 7:30am– 5:30pm PST |
| Phone number | 855-571-0464 |
| Email address | |
| Office address | 21550 W Oxnard St #100, Woodland Hills, CA 91367 |
REX office locations
| Market | Office address |
| --- | --- |
| Arizona | 4645 S Lakeshore Drive, Suite 8Tempe, AZ 85282 |
| Austin, TX | 3300 North IH-35, Suite 149Austin, TX 78705 |
| Denver, CO | 5445 DTC ParkwayGreenwood Village, CO 80111 |
| Las Vegas, NV | 9890 South Maryland Pkwy, #200ALas Vegas, NV 89183 |
| Los Angeles, CA | 21550 W Oxnard, Suite 100Woodland Hills, CA 91367 |
| New Jersey | 37 E Washington Ave, Suite 1RWashington, NJ 07882 |
| Portland, OR | 8215 SW Tualatin-Sherwood Road, Suite 200Tualatin, OR 97062 |
| San Francisco, CA | 255 Shoreline Dr, Suite 300Redwood Shores, CA 94065 |
| Seattle, WA | 4400 NE 77th Ave, Suite 275Vancouver, WA 98662 |
Other markets REX services
Note: Just because REX services your area, it doesn't mean they have an agent there! If there are no REX agents in your location, the company will handle the process remotely with support from local freelancers.
Arizona

California

Colorado

District of Columbia

Florida

Georgia

Maryland

Nevada

New Jersey

Oregon

Pennsylvania

Texas

Vermont

Methodology
To create this review, we conducted an in-depth analysis of REX Real Estate. This included reading customer reviews online, reviewing numerous press articles about the company, and reviewing the company's fees and service offerings.
Our ranking and editorial position drew on hundreds of hours of research by Clever's discount broker review team. We took numerous factors into account, but weighted most heavily each company's:
Service model
Fees and pricing
We also took into account the following factors:
Are there any minimum or hidden fees?
What is their agent compensation and retention rate?
Do they offer a competitive buyer's agent commission?
Do they offer any buyer incentives?
How many clients do their agents work with at once?
What services do they offer, and which services do they cut out?
How do they market their client's homes?
Do they use any misleading advertising in regards to their service model or fees?
This article is reviewed and updated periodically to ensure you have the most up-to-date information to choose the best real estate brokerage. All pricing data and ranking information is based on the companies' advertised rates when this article was last updated.
» JUMP: Back to the top of the page